A romance novel for those who think you can't find love after grief, Two Steps Forward by Graeme Simsion and Anne Buist is the story of two strangers traveling the same road, literally and figuratively, when they find each other at the most needed moment.
Zoe has just lost her husband, he passed away unexpectedly, and she has decided to take a trip away from the States in order to get her mind back in order. She has taken a spontaneous trip to the Camino, which is route in northwest Spain that pilgrims walked long ago. It's her chance to discover herself and find out where she is supposed to be in life.
Martin is on the same route, traveling with a cart that he designed. While he's going through a divorce, he figures he should take some time away and find his path in life. When the two meet, at first it's a little awkward, but they keep crossing paths, and soon become close. Exploring each others hearts and minds, while pulling out all stops to discover their inner selves as well.
This is a sweet story, and the underlying theme is heartbreak, how can we get over it, and how can we move on in order to live our best life? I adored the humor in this book, even through the sad parts. The characters were relatable in their struggles, and their willingness to open up to each other. I give this book 4 out of 5 stars.
---

Purchase Links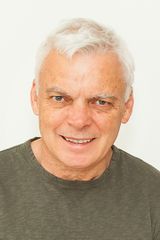 About Graeme Simsion
GRAEME SIMSION is the author of the #1 bestseller The Rosie Project, which has been optioned for film by Sony Pictures, was a Globe and Mail Best Book of the Year and won the Australian Book Industry Association Book of the Year. The Rosie Effectwas also a #1 Globe and Mail bestseller, an instant†New York Times bestseller and a People†magazine Pick of the Week. Simsion's most recent novel,The Best of Adam Sharp, has also been optioned for film. This is his first novel co-written with his wife, Anne Buist. Follow him on Twitter @GraemeSimsion.