Stanley Huang has just received the news that he has pancreatic cancer. He's lived a wonderfully interesting life, with two marriages under his belt, as well as a couple of kids. That doesn't mean everything will be all good once he dies, Stanley knows he needs to get his affairs in order, but what happens when his children's inheritance isn't all that they thought it would be? Family Trust by Kathy Wang is a hilarious and real-life look into the average Asian-American family.
If you're thinking this is going to be the next Crazy Rich Asians you may be pleasantly surprised that it's not much like that book at all. Although I liked Crazy Rich Asians, I had a hard time identifying with the characters because, well, I'm not crazy rich. However, in this book, the Huang family is your typical Silicon Valley family, one with secrets, lies, and regrets mixed in with the fun family moments we all live for.
Each character in the family has their own ways of dealing with the impending death of Stanley, as well as their individual personality that shines like a diamond. Fred, Stanley's son, hopes that the inheritance he's bound to gain after the death of his father will help him recover from his lack of work ethic. His daughter, Kate, thinks there's more to life than the small family she's helping to raise but isn't sure how to get what she really wants.
Then there's Stanley's wife and ex-wife. You'll just have to wait and see how they act in this hilarious novel. The situations that this family gets put into are believable yet create one humorous last days of life for Stanley. If you are in the mood for a funny book with a slightly morbid undertone, then definitely go pick this book up, it'll be perfect for a weekend read. I give this book 4 out of 5 stars. It was a lot of fun to read, and the characters were entertaining.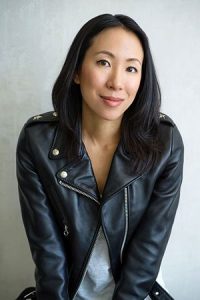 About Kathy Wang
Kathy Wang grew up in Northern California and holds degrees from UC Berkeley and Harvard Business School. She lives in the Bay Area with her husband and two children.
Visit Kathy's website and connect with her on Facebook, Twitter, and Instagram.